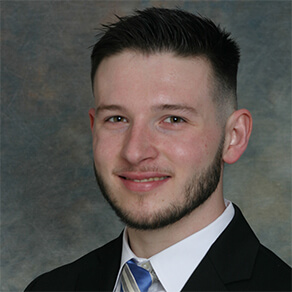 Sean Micho Earns His Certified Public Accountant (CPA) License
6.5.23
Dannible & McKee, LLP, a certified public accounting and consulting firm with offices in Syracuse, Auburn, Binghamton and Schenectady, New York, is pleased to announce that Sean Micho has successfully passed the CPA exam and completed the requirements to earn a license as a Certified Public Accountant in New York State.
Micho started with Dannible & McKee in 2022 as an intern in the firm's tax department and was hired as a full-time tax staff accountant in January 2023. His areas of focus include individual and corporate tax planning and compliance, as well as business valuations. Micho earned his Bachelor of Science in accounting in 2021 and Master of Science in accounting in 2022 from Binghamton University State University of New York. He currently resides in Baldwinsville, New York and is based out of the Syracuse office.
The CPA license is the accounting profession's highest standard of competence, a symbol of achievement and assurance of quality. To earn the prestige associated with the CPA license, one is required to demonstrate knowledge and competence by meeting high educational standards, passing the CPA exam and completing a specific amount of public accounting experience.
 About Dannible & McKee, LLP
Established as a partnership in 1978 by Anthony F. Dannible and Lance K. McKee, Dannible & McKee, LLP is committed to providing the highest level of professional services in the areas of audit, tax, accounting and financial management advisory services to clients nationwide. The firm focuses on major industry lines and specializes in multi-state taxation review, business valuation, litigation support and fraud prevention and detection. With headquarters in Syracuse, New York, and offices in Auburn, Binghamton and Schenectady, New York, the firm employs over 110 professional and support personnel, including 23 partners. Dannible & McKee was the first CPA firm in the region to join the Association of Certified Fraud Examiners (ACFE) and is a member of GGI Global Alliance (GGI), an international network of independent professional firms committed to providing clients with access to expanded resources and professional expertise in the international marketplace.