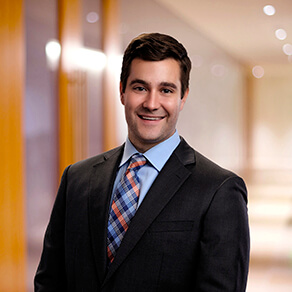 Robert C. Reeves, CPA, Earns Certified Fraud Examiner Credential
11.29.22
Dannible & McKee, LLP, a certified public accounting and consulting firm with offices in Syracuse, Schenectady, Binghamton and Auburn, New York, is proud to announce that Robert C. Reeves, CPA, has been awarded the globally-preferred Certified Fraud Examiner (CFE) credential by the Association of Certified Fraud Examiners (ACFE). To become a CFE, Reeves met a stringent set of criteria and passed a rigorous exam administered by the ACFE.
The CFE credential demonstrates knowledge in four areas critical to the fight against fraud: Fraudulent Financial Transactions, Fraud Prevention and Deterrence, Legal Elements of Fraud and Fraud Investigation. As a CFE, Reeves can help clients implement the appropriate internal controls to help them prevent fraud, as well as detect and investigate possible fraudulent activities.
Prevention is key in mitigating fraud, and it's important that every organization reviews its systems regularly to ensure they are fit for purpose and up to date. According to the 2022 Global Fraud Study by the ACFE, the typical organization loses 5 percent of annual revenues to fraud. The median loss caused by fraud in the study was $117,000, with 21 percent of the cases causing losses of at least $1 million.
Reeves started with Dannible & McKee, LLP in 2017. Prior to joining the firm, he worked as a senior accountant for a private commercial real estate company. Reeves earned his Master of Business Administration from the State University of New York at Oswego in 2016 and a bachelor's degree in accounting, magna cum laude, from Niagara University in 2014. He is a Certified Public Accountant in New York and is a member of the American Institute of Certified Public Accountants (AICPA) and the New York State Society of Certified Public Accountants (NYSSCPA).
 About the ACFE
The ACFE is the world's largest anti-fraud organization and premier provider of anti-fraud training and education. Together with more than 90,000 members, the ACFE is reducing business fraud worldwide and inspiring public confidence in the integrity and objectivity within the profession. Identified as "the premier financial sleuthing organization" by The Wall Street Journal, the ACFE has captured national and international media attention. For more information about the ACFE, visit ACFE.com.
About Dannible & McKee, LLP
Established as a partnership in 1978 by Mr. Anthony F. Dannible and Mr. Lance K. McKee, Dannible & McKee, LLP is committed to providing the highest level of professional services in the areas of audit, tax, accounting and financial management consulting services to clients nationwide. The firm focuses on major industry lines and specializes in multi-state taxation review, business valuation, litigation support and fraud prevention and detection. With headquarters in Syracuse, New York, the firm employs over 110 professional and support personnel, including 22 partners. Dannible & McKee was the first CPA firm in the region to join the Association of Certified Fraud Examiners and is a member of GGI Alliance (GGI), an international network of independent professional firms committed to providing clients with access to expanded resources and professional expertise in the international marketplace. For more information, visit www.dmcpas.com.