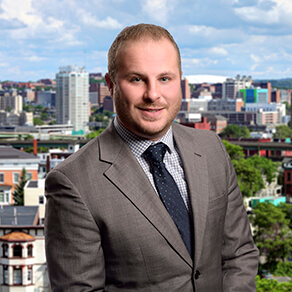 Mickel Pompeii, CPA, CDA, Named to the 40 Under Forty List
8.28.23
SYRACUSE, NY, August 29, 2023 – Dannible & McKee, LLP, a certified public accounting and consulting firm with offices in Syracuse, Auburn, Binghamton and Schenectady, New York, is pleased to announce that Mickel Pompeii, CPA, CDA, has been selected as one of the 40 Under Forty honorees for 2023 by the Central New York Business Journal.
According to the standards published by the Business Journal, this recognition is awarded to young professionals who are making great strides and shaping the community's future. Applications are evaluated by a panel of judges who score and rank them accordingly.
"Mickel is an accomplished professional who has proven to be an excellent leader and a respected mentor," said Nicholas Shires, CPA, partner-in-charge of tax services for Dannible & McKee. "This recognition is attributed to his hard work and dedication, and his success is a testament to his ability to achieve true work-life balance. With three young children and a spouse who works an equally rigorous schedule, he continues to excel at the firm as well as at home."
Pompeii is a tax partner with Dannible & McKee with over 15 years of experience providing tax and consulting services to a wide range of clients, including individuals and closely held companies. He joined the firm in 2008 after graduating from Le Moyne College with a bachelor's degree in accounting.  Pompeii is a certified public accountant in New York State as well as a certified design accountant. He is also a member of several professional associations, including the American Institute of Certified Public Accountants (AICPA) and the New York State Society of Certified Public Accountants (NYSSCPA).
Pompeii's accomplishments include growing the firm's recruiting and internship programs, as well as enhancing the mentorship program. He has been instrumental in expanding the firm's presence in the Binghamton, New York area. He is active in the local community and has placed a high value on civic leadership.
The Central New York Business Journal has been presenting the 40 Under Forty awards since 1998. Past recipients at Dannible & McKee include:
Charla Roth, CPA
Nicholas Shires, CPA
Brian Potter, CPA, CDA
About Dannible & McKee, LLP
Established as a partnership in 1978 by Anthony F. Dannible and Lance K. McKee, Dannible & McKee, LLP is committed to providing the highest level of professional services in the areas of audit, tax, accounting and financial management advisory services to clients nationwide. The firm focuses on major industry lines and specializes in multi-state taxation review, business valuation, litigation support and fraud prevention and detection. With headquarters in Syracuse, New York, and offices in Auburn, Binghamton and Schenectady, New York, the firm employs over 110 professional and support personnel, including 22 partners. Dannible & McKee was the first CPA firm in the region to join the Association of Certified Fraud Examiners (ACFE) and is a member of GGI Global Alliance (GGI), an international network of independent professional firms committed to providing clients with access to expanded resources and professional expertise in the international marketplace.