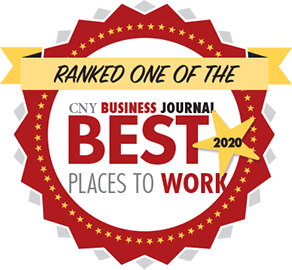 Dannible & McKee, LLP Named One of Central New York's Best Places to Work in 2020
9.16.20
Dannible & McKee, LLP, a certified public accounting and consulting firm with offices in Syracuse, Albany and Binghamton, has been recognized as one of Central New York's Best Places to Work in 2020.
Presented by BizEventz in collaboration with the CNY Business Journal, this prestigious award recognizes workplaces in Central New York, as voted on by the people who know them best – their employees. The award is based upon a confidential satisfaction survey that asks for employees' feedback on job satisfaction, company benefits, business culture, leadership and more.
"We're extremely proud of the firm culture our employees have built over the years – a culture where clients come first and people feel a deep connection to what they do," said Michael J. Reilly, CPA/ABV, CVA, CFF, CDA, managing partner at Dannible & McKee, LLP.  "I want to thank all our talented and motivated employees who make Dannible & McKee a leading CPA firm, and who continue to push themselves to exceed our client's expectations."
Dannible & McKee employs over 95 professional and support personnel, including 19 partners. About 45% of Dannible & McKee's full-time employees have been with the firm 10 years or more, with 18% for more than 20 years and 10% for over 30 years. Long employee tenure is a testament to how Dannible & McKee treats its team members.
With a culture that is deeply rooted on "people first," Dannible & McKee is highly focused on supporting and investing in the development of powerful employees. The firm provides the infrastructure and resources to give employees the ability to customize their career and the opportunities to take it to the next level. To support employees' success at work and at home, Dannible & McKee offers flexible work options and paid time off throughout the year.  The firm also offers comprehensive healthcare, as well as CPA exam support, continuing education program, 401K plans and business casual work environment.
Dannible & McKee also takes pride in giving back to the communities which have fueled their success, and encourages all employees to create strong community ties by volunteering and sharing their talents and leadership abilities with a variety of worthy organizations.
To learn more about Dannible & McKee's culture and career opportunities, please visit our careers page.