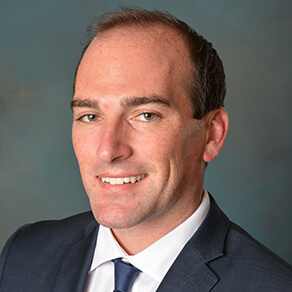 Dannible & Mckee, LLP Hires New Senior Audit Manager
9.23.21
Dannible & McKee, LLP, a certified public accounting and consulting firm with offices in Syracuse, Albany and Binghamton, NY, is pleased to announce the hiring of Kevin Didio, CPA, as senior audit manager.
Didio brings with him over nine years of accounting, assurance and consulting experience. He has worked with a wide range of companies and concentrates in manufacturing, transportation, consumer & retail and state & local governments. He also has extensive experience working with clients providing services to both private and publicly-held domestic and foreign companies.
Prior to joining the firm, Didio served as account manager at Oneida Nation Enterprises, an organization comprised of hospitality, gaming, recreation, retail and service brands in Oneida, NY, where he provided corporate accounting and external reporting. He began his career with PricewaterhouseCoopers, a public accounting and professional services firm, where he received multiple promotions throughout his tenure.
In his current position, Didio will be responsible for the planning and management of multiple engagement teams through the performance of audits, reviews and compilations for the firm's clients. He is a Certified Public Accountant in New York State and is a member of the American Institute of Certified Public Accountants (AICPA) and the New York State Society of Certified Public Accountants (NYSSCPA). Didio is a 2011 graduate of Ithaca College with a Bachelor of Science in accounting and a 2012 graduate of Syracuse University with a Master of Science in professional accounting. He resides in Onondaga Hill, Syracuse with his wife Christine and daughter Brooke.
"We are thrilled to welcome Kevin to our team," said Michael J. Reilly, CPA/ABV, CVA, CFF, CDA, managing partner at Dannible & McKee, LLP. "He brings a wealth of experience along with the expertise in key industries we serve, which complements our firm's strength in specialized niches and supports our continued growth."
About Dannible & McKee, LLP
Established as a partnership in 1978, Dannible & McKee, LLP is committed to providing the highest level of professional services in the areas of audit, tax, accounting and financial management consulting services to clients nationwide. The firm focuses on major industry lines and specializes in multi-state taxation review, business valuation, litigation support and fraud prevention and detection. With offices in Syracuse, Albany and Binghamton, New York, the firm employs over 95 professional and support personnel, including 20 partners. Dannible & McKee was the first CPA firm in the region to join the Association of Certified Fraud Examiners (ACFE) and is a member of Geneva Group International (GGI), an international network of independent professional firms committed to providing clients with access to expanded resources and professional expertise in the international marketplace. The firm has also been recognized as one of Central New York's Best Places to Work in 2020 and 2021.