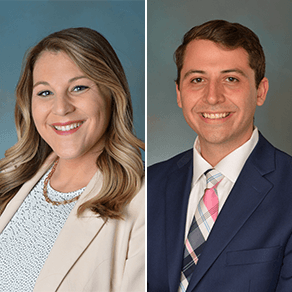 Dannible & McKee, LLP Expands Its Operational Team
8.21.23
Dannible & McKee, LLP, a certified public accounting and consulting firm with offices in Syracuse, Auburn, Binghamton and Schenectady, New York, is pleased to announce the hiring of two professionals for their operations team.
Devin R. Negrete-Harvey has joined the firm as its digital marketing coordinator. She will support and optimize the firm's online marketing programs, including website, social media, and search marketing initiatives.
Before joining the firm, Negrete-Harvey held the position of marketing & social media manager at the Marriott Syracuse Downtown, and she is the owner of DEV Communications, a marketing consulting company. She has prior experience working in communications and public relations at UDig NY and as a news anchor and reporter for FOX 40 in Binghamton, New York, and WSAV News 3 in Savannah, Georgia. Negrete-Harvey formerly served as the board president of Central New York Sales and Marketing Executives (CNYSME) and co-chair of CNYSME's Crystal Ball. She is currently serving as vice president of the Safe Space Organization.
Negrete-Harvey graduated from the University of Central Missouri in 2014 with a Bachelor of Science in digital media production. She resides in Marcellus and works in the firm's Syracuse office.
The firm also welcomes Tyler Delao as an administrative assistant. In this role, he will provide administrative support to assigned audit partners, including the managing partner, and assist the marketing department.
Before joining the firm, Delao was a social media specialist at Mark Antony Homes and held past positions at Columbia University and Keller Williams Realty. He graduated from Syracuse University in 2021 with a Bachelor of Science in communications and rhetorical studies. He resides in Syracuse and is based in the Syracuse office.
About Dannible & McKee, LLP
Established as a partnership in 1978 by Anthony F. Dannible and Lance K. McKee, Dannible & McKee, LLP is committed to providing the highest level of professional services in audit, tax, accounting and financial management advisory services to clients nationwide. The firm focuses on major industry lines and specializes in multi-state taxation review, business valuation, litigation support and fraud prevention and detection. With headquarters in Syracuse, New York, and offices in Auburn, Binghamton and Schenectady, New York, the firm employs 115 professional and support personnel, including 22 partners. Dannible & McKee was the first CPA firm in the region to join the Association of Certified Fraud Examiners (ACFE) and is a member of GGI Global Alliance (GGI), an international network of independent professional firms committed to providing clients with access to expanded resources and professional expertise in the international marketplace.