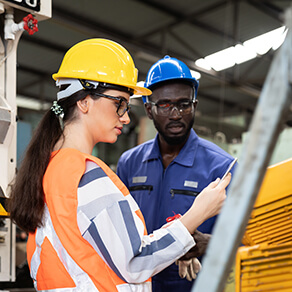 Diversity in Manufacturing Offers Many Benefits
12.20.21
As the U.S. population continues to grow more diverse, many manufacturers are adapting their workforces to reflect that diversity. And while diversity for its own sake is an admirable goal, a diverse workforce can also pay off in the form of improved business performance.
Benefits Abound
Manufacturers can struggle to find quality workers. This includes employees with the highly technical skills needed as the manufacturing process increasingly turns to automation and digital technologies. Expanding recruitment efforts to reach a more diverse audience can help close the skills gap.
Manufacturers that embrace diversity often find it helps them reach more customers. Diversifying their workforce to reflect their customers' values helps manufacturers better understand their customers' needs.
Studies show that a more diverse workforce enhances innovation and improves financial performance. For example, a study of women in manufacturing by The Manufacturing Institute, Deliotte, and APICS found that manufacturers with greater gender diversity (particularly those with strong female leadership) enjoy not only an improved ability to innovate, but also higher return on equity, increased profitability and better-than-average valuations.
A commitment to diversity can also help manufacturers keep valuable employees. Manufacturers that incorporate diversity into their cultures often enjoy improved retention rates as employees see themselves and co-workers appreciated and treated with respect.
Best Practices
Here are some best-practice tips for manufacturers that want to step up their diversity efforts:
Do Not Exclude Inclusion
Simply having a diverse workforce is not enough. It is equally important to create a culture of inclusion in which all employees feel accepted, understood, respected and valued.
Set the Tone at the Top
To succeed, diversity and inclusion efforts must have the full support of company leadership. Company leaders must communicate their commitment to diversity throughout the organization.
Communicate Measurable Goals
Often it is not enough for a manufacturer to simply say they are committed to diversity. They should also communicate to employees the specific, measurable objectives they are implementing to achieve that commitment.
Empower Employees
Many of the companies that have been most successful in creating a culture of diversity and inclusion have embraced employee resource groups (ERGs). These identity- or experience-based groups help give a voice to various communities within an organization, allowing them to share their experiences and advocate for increased recognition and opportunities.
Emphasize Diversity in Recruiting
Involve leaders in your recruiting efforts with backgrounds similar to those you are striving to recruit.
Track Diversity Metrics
Treat diversity and inclusion as key business performance goals and track related metrics in recruiting, hiring and employee retention. Analyze data related to diversity in leadership and promotion decisions.
Implement Training Programs
Conduct regular training on unconscious bias, communication, conflict resolution and other diversity and inclusion issues.
Address Work-Life Balance
According to the Deloitte study mentioned above, lack of work-life balance is one of the top reasons women leave manufacturing. Create an ERG that focuses on this issue.
Embrace Foreign-Born Workers
The percentage of the U.S. population that is foreign-born has been steadily increasing and represents an often underused source of knowledge and talent. Consider strategies for accommodating language and cultural barriers.
Cultivate Diverse Teams
Diversity within organization teams connects people with contrasting perspectives, which in turn fosters collaboration, innovation and creative solutions.
Positive Impacts of Diversity
Diversity does not just make the workplace more interesting. It has been shown to improve morale and enhance employee engagement, leading to greater innovation, increased productivity and other significant business benefits.
How has your company strived to increase diversity in its workforce and how have you seen it improve your business?