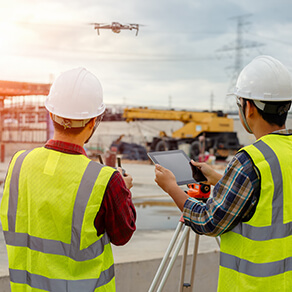 Can Digital Construction Technology Help the Industry Survive the Pandemic?
3.26.21
Construction companies may be on the brink of a digital revolution, thanks in part to the coronavirus pandemic. The construction industry has been slower than other industries to adopt digital technology, but COVID-19 is spurring companies to be innovative and quickly find effective solutions to track projects, improve collaboration, train workers on new protocols and reduce costs.
Digital technology can help make construction sites safer and efficient, resulting in increased productivity and less downtime. It also enables companies to tackle more complex projects during the pandemic. Many digital tools are affordable, so companies that invest now can optimize their impact both today and into the future.
Some of the ways digital technology can help construction companies become more efficient and resilient include:
Scheduling – COVID-19 has made the industry's labor shortage issues more severe. Some firms are working with a staggered workforce to minimize employees' exposure to the virus. Digital scheduling tools can be effective in managing workers' schedules and meeting project deadlines.
Collaboration – The success of a project depends on effective collaboration among several contractors and suppliers. Frequent site visits may not be feasible now during the pandemic. Cloud-based apps enable teams to work from anyplace to provide updates, monitor progress, review financial data and work together to address challenges.
Communications – Mobile devices enable phone calls and video conferencing for real-time reporting from the site. Project managers can update punch lists, track deliveries, and monitor subcontractors' progress from their office or home.
Materials and suppliers – Business downturns push every business owner to scrutinize cost outlays and prioritize expenditures. COVID-19 has brought sporadic shortages for certain materials. Contractors are avoiding pandemic-induced shutdowns by carefully monitoring material availability and costs using digital programs that consider options for supplier diversification.
Data analytics – Contractors are using digital tools to help analyze materials costs, general expenses, and timelines. The cost of software and hardware programs for data analytics has dropped substantially, making these tools more widely accessible.
The Internet of Things – Most companies rely on the Internet of Things (IoT) to exchange data via cloud-based connectivity of web-connected devices. In construction, the IoT enables information on materials, equipment and machinery to flow freely on one central data platform among project managers and construction crews. The IoT can help predict and prevent jobsite bottlenecks, optimize equipment use, improve efficiency and stretch resources.
Marketing – As the economic recession from COVID-19 brings project cancellations, many contractors will need to line up new projects and secure financing. Marketing analytics can help position firms with potential developers and builders and target marketing communications. Search engine optimization (SEO) tools can help contractors ensure their businesses are ranking high for searches in their geographic area.
Upping the Game – Investing in Digital Technology for the Future
Looking ahead to the time when business picks up and the pandemic recedes, other digital technologies will prove to be worthwhile investments to improve efficiency and optimize operations. Although the costs of these tools are higher, their adoption will help firms move effectively into the next decade.
Augmented reality (AR) enables a user to take a computer-generated image and manipulate it in their view. This can allow workers to train virtually on new equipment and learn safety precautions and how the various machine parts work together. AR can send alerts of nearby dangers to working crews and show customers a detailed visual of a completed project even before the work begins.
Drones allow project managers to supervise projects remotely and in real-time. They can survey locations that are difficult or dangerous for workers to view.
3D printing provides contractors with ways to cost-effectively create designs on a smaller scale so that modifications can be made before full-scale construction begins. Construction workers can more efficiently plan and construct buildings using building information modeling (BIM), a smart 3D model-based process.
Challenging times give contractors and construction firms the opportunity to rethink how they can become more nimble and change their business models to meet customer expectations. Those firms that embrace digital technologies will be better positioned to recruit skilled talent and integrate new processes and efficiencies to their advantage, resulting in safer job sites, fewer delays, and better business management.
Our Construction Industry Professionals are dedicated to helping contractors build a more profitable and valuable construction enterprise. Contact us today.